Historic Cherry Mill Farm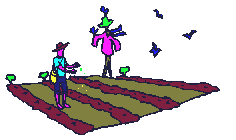 I have been growing vegetables on the Front Range for over 30 years.
In the late 1980s -1991, I co-owned and -operated Bellwether Farms and Inch-By-Inch Vegetables, one of the first certified organic farms in Fort Collins.
Recently retired from a 17-year career as an ecologist at the NRRC, I now work tending soil together with my partner BT Huntley.
We are fortunate to be the latest stewards of the Historic Cherry Mill in north Fort Collins.
We strive to provide varieties that yield well, taste good, and do well in our climate.
I start plants for growing in our garden and offer extras for sale to the public.
--Drew

Feel free to contact us if you would like us to custom-grow something for you, or if you want to sell starts as a fundraiser for your school or non-profit organization.

Eating food is an ultimate act of communion with our Mother Earth.
Growing one's own food can be a sacred act that strengthens that connection.